Easter Sunday at our Northamptonshire shopping village is shaping up to be an unmissable occasion.
We're pleased to announce that the latest addition to our Easter plans is the booking of Syncopated Jazz. The local jazz band will be performing live on our historic bandstand from 12pm till 2:30pm.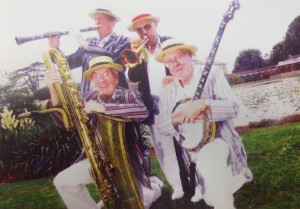 The quartet have performed for many years – establishing a well-known presence in the local area. Syncopated Jazz's performances have consistently received great responses from audiences and we're thrilled to have them as our entertainment on Easter Sunday.
The four-piece band is made up of a saxophone, trumpet, clarinet and jazz bass player.
Our celebrations on the day will also include a special Easter treasure hunt for the children. The hunt will be hosted by The Deli and Wine Barn between 10:30am and 4:30pm.
For a family-friendly day out in Northampton this Easter Sunday, there really is no place better than Heart of the Shires.
Our Northamptonshire shopping village now has 24 independent stores which cover a range of specialities including; art, furniture, clothing, health and beauty and more.
So come along and enjoy the entertainment whilst exploring our wide range of shops. We look forward to seeing you there.
If you would like any more details, please get in touch via Facebook, Twitter or drop us an email at info@heartoftheshires.co.uk.
Jazz band to perform on Easter Sunday