The Heart of the Shires have a special family activity in store for your children this Easter.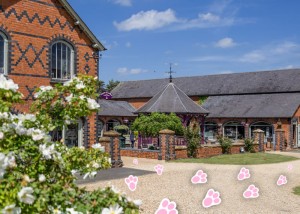 On Easter Sunday and Monday, The Deli and Wine Barn will be hosting a celebratory Easter Treasure hunt from 10:30am till 4:30pm.
To begin, children will pick up a free entry form from The Deli and Wine Barn and then follow foot tracks left by the Easter Bunny. The foot prints will twist and turn around our shopping village and lead the children to hidden letters.
Once all of the hidden letters have been found, they can be put together to reveal a mystery Easter related word. The Easter Bunny has left a special egg filled gift bag at the Deli for all children who complete the hunt.
Our Northamptonshire shopping village now has 24 independent stores which cover a range of specialities including; art, furniture, clothing, health and beauty and more. So for a fun filled family day this Easter, there's no place better than a trip to The Heart of the Shires.
For more information, call The Deli and Wine Barn on 01327 342269 or follow us on Facebook and Twitter for the latest updates. Our shops are open 10-5 daily.