The Heart of the Shires are pleased to announce that Tresor Cache, the independent furniture store, are hosting a creative craft class for children aged between 5 and 8 on Saturday 26th March.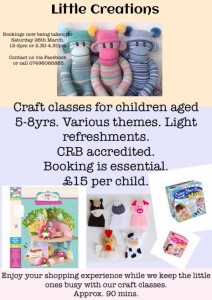 It has been found that children benefit from being involved in art and craft activities. It's not necessarily about the end product, but it's about the exciting and absorbing journey they go on to create their own masterpiece.
In this creative environment, children will be free to explore, discover and try out their own ideas, within various themes of crafting. These classes start on the first weekend of a two week Easter holiday for the kids. They therefore provide the perfect chance to keep the children's minds engaged.
The classes will last approximately 90 minutes and are to be run by fully CRB accredited staff.
All of this means that you, the parents, can enjoy your Heart of the Shires shopping experience whilst the little ones are kept busy with an engaging and fun craft class.
Bookings are essential and are just £15 per child. Times available on Saturday 26th March are at 12-2pm or 2:30-4:30pm.
Tresor Cache also provide painting or decoupage home party classes for adults. All that's needed are four people, whether it's with friends or family, and a Tresor Cache professionals will teach you how to paint and wax or decoupage in your own home.
For more information on either classes, or to book your child's place, please call Tresor Cache 07496 066 885 or contact via their Facebook page.