Heart of the Shires was built in 1867. That's over 150 years ago, it's difficult to imagine what the world was like then. Amazing to think what hadn't happened or been invented.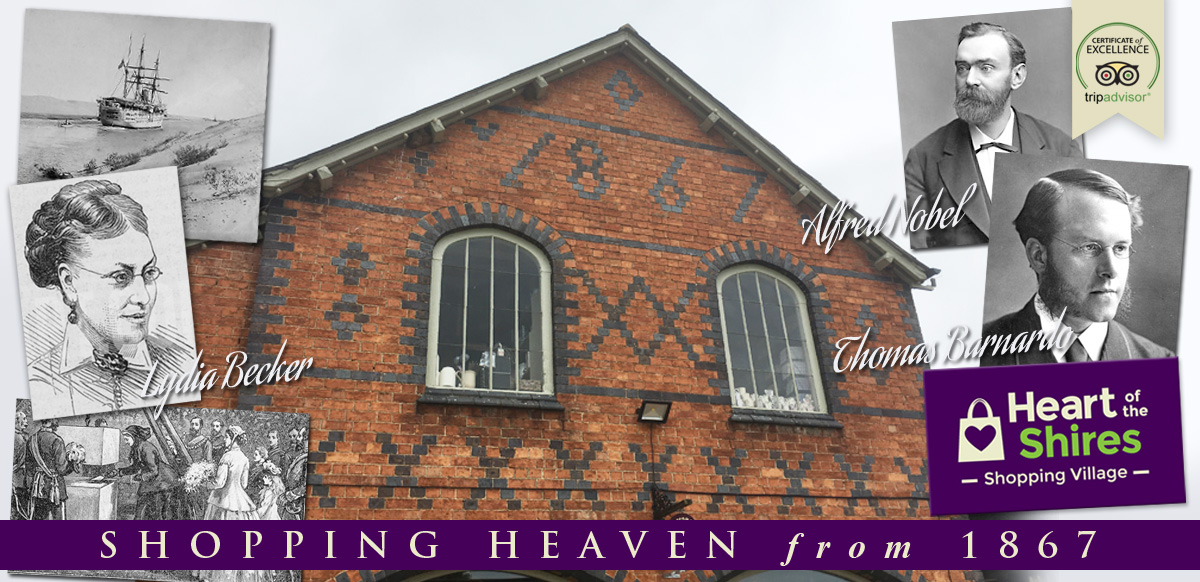 Obviously the whole of the 20th century hadn't happened, with a huge social reform to the modern standards of living we enjoy today however, in 1867, the lightbulb hadn't been invented (1879: Joseph Swan and Thomas Edison both patent a functional Incandescent light bulb), there were no cars (1886: Karl Benz invents the first petrol or gasoline powered automobile), no radio (1895: Guglielmo Marconi invents a system of wireless communication using radio waves), or telephones (1876: Alexander Graham Bell has a patent granted for the telephone).
The year of 1867 itself had several significant events, in the UK:
February – the Society of Arts inaugurates the Blue plaque scheme, advanced by William Ewart, for erecting memorial tablets on London houses previously the homes of notable people, the first being at Lord Byron's birthplace, 24 Holles Street, off Cavendish Square.
May – Laying of the foundation stone of the Royal Albert Hall by Queen Victoria
July – the Swedish chemist Alfred Nobel demonstrates dynamite in a quarry in Redhill, Surrey having patented it in the U.K. on 7 May.
September – Sheffield Wednesday F.C. are founded at the Adelphi Hotel in Sheffield. Wednesday is one of the oldest football clubs in the world of any code.
October – Thomas Barnardo opens his first shelter for homeless children, in Stepney.
6 November – National Society for Women's Suffrage, the first such national campaigning group, is formed by Lydia Becker.
Worldwide too had these notable events:
February – Johann Strauss waltz "The Blue Danube" (An der schönen blauen Donau) is first performed, at a concert of the Vienna Men's Choral Association. Strauss adapts it into its popular purely orchestral version, for the International Exposition in Paris, later this year.
February – The first ship passes through the Suez Canal.
March – Alaska is purchased for $7.2 million from Alexander II of Russia.
August – The Canadian federal election of 1867, held from August 7 to September 20, was the first election for the new nation of Canada.
December – In a New York City theater, English author Charles Dickens gives his first public reading in the United States.
An impressive year – Queen Victoria had been on the throne for the past 30 years – and would continue to 1901. Andrew Johnson was the 17th president of the United States. Johnson was vice president and became president following the assassination of Abraham Lincoln (in 1865) – Remember that one for the pub quiz!
Yet to happen was Custers Last Stand (Battle of the Little Bighorn) (1876), Rourkes Drift – Anglo-Zulu war (1879), Powered Flight (1903), even Coca Cola (1886).
Plenty there to chew on – yet in 1867, you couldn't as Thomas Adams had yet to invent chewing gum, he would do that in 1870!