Abraxas have a strong presence at our Northamptonshire shopping village. With six stores, their specialities lie in a number of areas. The brand currently have a special offers across some of their stores – you can find all the latest offers below.
Abraxas Cookshop
Abraxas Cookshop have added some promotional discounts to give your kitchen a much-appreciated upgrade:
Robert Welch 'Signature' knife drawer set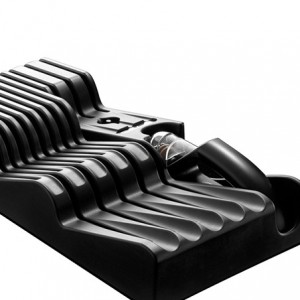 Developed with professional chefs, these beautiful `Signature' kitchen knives are a result of years of research, design and testing. The set is fully forged from German stainless steel with a hand applied 15° Japanese-style edge for superior sharpness.
Included in the set is; 8cm signature paring knife, 12cm signature cook's knife, 18cm signature cook's knife, handheld sharpener and replacement sharpening wheel. Plus 4 free signature plain edge steak knives.
The set is currently at a special price of £99.99 (RRP £174.99).
Raymond Blanc hard anodised stockpot 24cm / 7.6ltr
The heavy gauge hard-anodised body of this stockpot offers amazing heat distribution for top cooking performance. The high quality non-stick technology is metal utensil safe and won't scratch or peel, meaning that cooking and cleaning are seamlessly simple.
The stockpot is currently £29.99 (RRP £83.99).
Abraxas China & Glass
Abraxas China & Glass have a range of table linens, earthenware, whiteware, glassware, and cutlery from a number of high quality suppliers. The store currently has an offer on one of their most popular and adored brands:
Emma Bridgewater range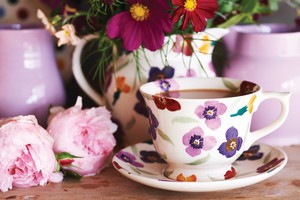 Well-loved and known for her diverse and British style, Emma Bridgewater's ceramics add a
charming twist to any home. Whether it's ceramic or textile, the piece will inject your kitchen with colour through bold patterns.
There is currently a 15% discount on the entire Emma Bridgewater range.
Abraxas Dressage
Abraxas Dressage, the ladies fashion stockists are giving you an incentive to spruce up your wardrobe ready for the new season:
15% discount
Masai, Sandwich and Nomads spring/summer collections have now all arrived at Abraxas Dressage. The store also has some new beautiful new ranges including SeaSalt, Mudd & Water, and Capri.
The ladies fashion store is currently offering an ongoing 15% discount on their spring/summer collections. Sizes available are 8 – 20.
Abraxas Country Clothing
Abraxas Country Clothing is an additional shop to Dressage selling ladies' and gentlemen's country clothing. New collections are instore now and they're giving you a big reason to get the latest clothing:
15% discount
Ladies and Gentlemen's spring and summer collections from Joules, Barbour and Toggi have now all arrived in store. The country clothing store are offering an ongoing 15% discount on their new spring/summer collection. Sizes 8 – 20 for ladies, s/m – xxxl for men.
With 24 independent sellers at our Northamptonshire shopping village, we have something unique and special for everyone. Whatever your need, you're likely to find it here at the Heart of the Shires.
Follow us on Facebook and Twitter for the latest updates. Our shops are open 10-5 daily.