Heart of the Shires are pleased to announce that Towcester Studio Band will be performing on our shopping village's bandstand on the 1st May.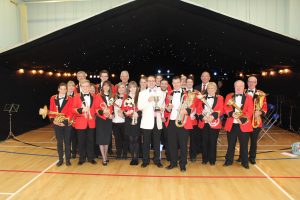 The local brass band have a cluster of key dates coming up so we are delighted to have the band play for us on this bank holiday weekend.
The band were established over one hundred years ago in 1910. With a rich history in brass and a group full of experience, the group is well recognised in the local area. The band are committed to excel in their music and playing ability in a warm, friendly and well organised way.
Come along and enjoy the entertainment whilst exploring our wide range of shops. The brass band will be performing from 2pm until 4pm on Sunday 1st May – we look forward to seeing you there.
If you would like any more details, please get in touch via Facebook, Twitter or drop us an email at info@heartoftheshires.co.uk.
Local brass band to perform on our bandstand