Beginning on 24th April, Texture Interior will be offering a 25 per cent discount on the iconic Parker Knoll furniture for one month.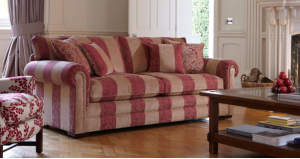 Parker Knoll is a well-respected furniture brand that has been producing premium upholstery for over 140 years. The brand has developed a reputation of quality and is one of the most trusted furniture manufacturers in the UK.
Proud of their British heritage, Parker Knoll is at the forefront of British upholstery design and only the finest materials are used to produce their handcrafted sofas.
Come and visit Texture Sofas & Interiors this month to find the perfect high quality sofa and chairs at unmissable prices.
Texture Interiors offer a stunning and carefully curated range of furniture, soft furnishings and home accessories. The store provide a personal interior design service, gorgeous fabrics and wallpapers from leading brands along with a comprehensive selection of decorative accessories for your home.
Our Northampton shopping village has 24 different independent stores covering a range of specialities; art, furniture, clothing, health and beauty and more. Whatever your need, you're likely to find it here at the Heart of the Shires.
To keep up with the latest news and updates on all of our shops, you can sign up to our monthly newsletter or follow the Heart of the Shires on Facebook and Twitter.