When was the last time you wrote a good review?
A complementary review to say thanks. To thank a retailer for the service, the goods or the extra mile that company went to help you.
I have to admit I can't remember. Can you?
I have had a few moans; BT haven't been that great this year, my car insurance company wanted a large increase, my mobile phone service is pretty shocking and all these (large) companies have had my reviews that weren't that great – but I can't honestly remember the last time I wrote a review when I had a positive experience. At Heart of the Shires Shopping Village we are home for independent retailers who rely on their excellent reputation and it's these reviews that mean so much to them, certainly more so than the large companies I have experienced lately.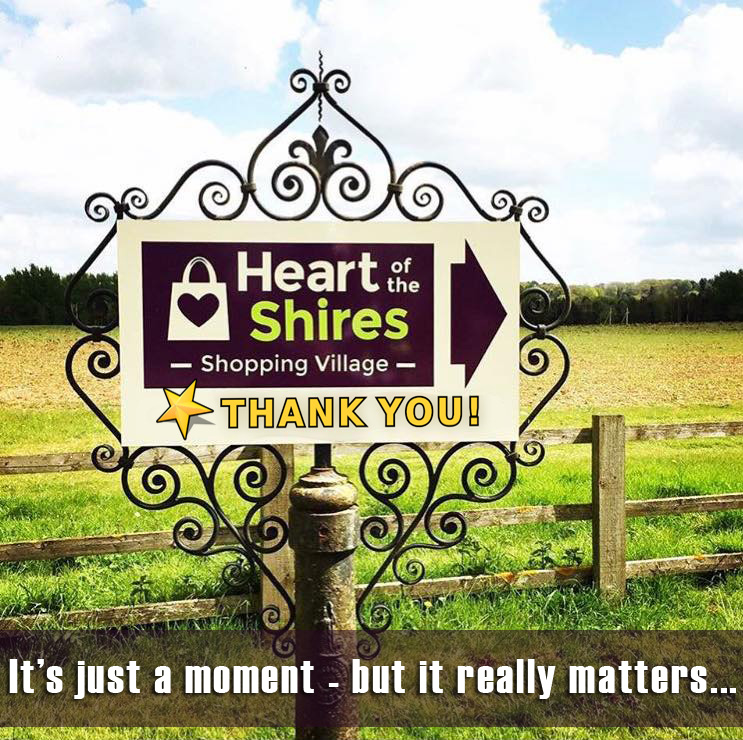 So why not take a moment to remember that great product, the great service or the great time you had at Heart of the Shires Shopping Village or one of our independent retailers and write a review? You can write a review on the Heart of the Shires Shopping Village Facebook page, the review section (there would be really nice) or directly on our retailers Facebook pages (or again their review sections). For those retailers that have a Facebook page we have listed them below. For those without Facebook you can write them on the  Heart of the Shires Shopping Village Facebook page and we'll pass them on.
It's just a moment – but it really matters.
Thank you.
https://www.facebook.com/abraxascookshop/
https://www.facebook.com/Alfies-Ark-1794069757487966/
https://www.facebook.com/HouseofCarillon/
https://www.facebook.com/DarcysDelightsTraditionalSweetShop/
https://www.facebook.com/Dressageabraxas
https://www.facebook.com/Flutterbyeshair/
https://www.facebook.com/hoganspethampers/
https://www.facebook.com/laura.wyllie.dog.training/
https://www.facebook.com/LightdrawPhoto/
https://www.facebook.com/pawsattheshires
https://www.facebook.com/thepeacecrane/
https://www.facebook.com/Pour-La-Femme-Beauty-1277149439609…
http://www.facebook.com/silversixpencebridalboutique
https://www.facebook.com/simplysalvagedltd/
https://www.facebook.com/TextureInteriors/