Welcome to the first weekend event hosted by The Artizen Gallery and Art Consultants at the Heart of the Shires Shopping Village – it's THIS WEEKEND! Saturday and Sunday 9/10 July 2022.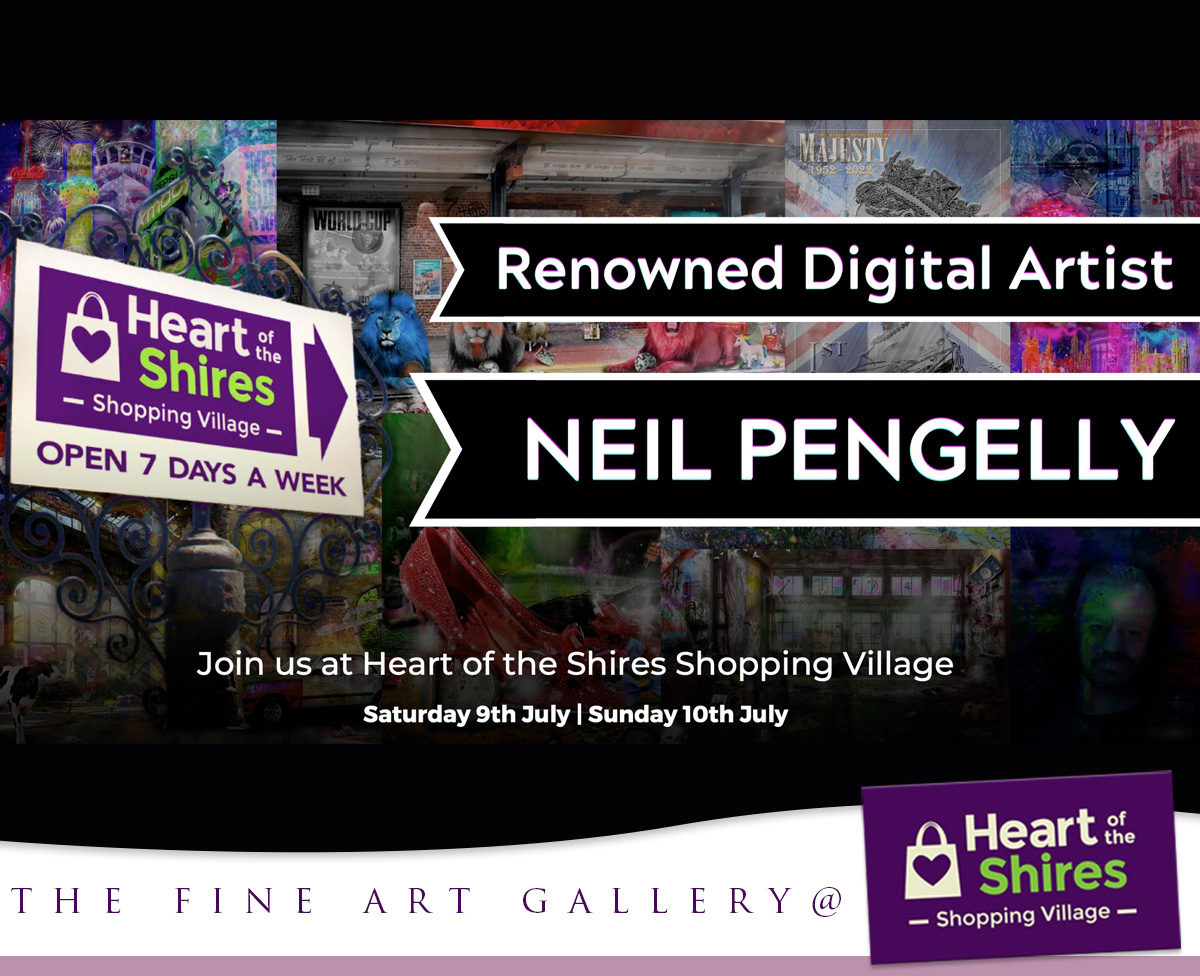 We are passionate about contemporary art and in particular supporting local artists, so we are delighted to invite you to this exciting upcoming event – come and meet our renowned local Artist, Neil Pengelly!
About this Event:
We will be displaying Neil's masterpieces in the courtyard bandstand at this wonderful Shopping Village location – so many lovely shops to browse around too.
Our gallery will be open and all our curators will be available to chat.
And an opportunity to win £150.00 worth of shopping vouchers to spend at the Heart of the Shires Shopping Village too.
Feel free to pop along and see Neil's exciting digital art and discover the five exciting new Limited Edition pieces, as well as some brilliant original artworks.
And one original piece being created specially for this weekend!
You will have the opportunity to meet the artist himself and experience a completely unique art world, right on your doorstep.
Neil creates fabulously intricate and colourful pieces, with a range of subjects and his popular appeal is growing.
As well as producing hand-embellished limited editions, Neil also takes on commissions, where he can take a list of personal memories, of a special place or time in history and create unique and personalised pieces to be cherished. Come and ask Neil while he is here and discover how Neil creates his imaginative pieces and the inspirations behind them!
About the Location:
The Artizen Gallery is in the popular shopping destination of The Heart of the Shires Shopping Village, conveniently situated right on the A5, just north of Weedon – we consider our location as the 'middle of England'.
There is a traditional Victorian Bandstand in the courtyard – an ideal place on an English Summer's Day to enjoy a glass of Fizz and chat to Neil himself!
Upstairs in the gallery there will be more of Neil's art and a selection of canapés and our friendly art consultants to chat to.
Don't forget that there is our lovely eatery in the courtyard if you want to make a day of it.
We are looking forward to welcoming you to Heart of the Shires on Saturday and Sunday 9/10 July 2022, from 11am -3pm!
For more details or any questions please do not hesitate to get in touch with our friendly team on 01327 223418 or at team@theartizen.co.uk
Event Highlights:
Browse the artwork and chat to our art consultants about the various Limited Editions and Originals available
Meet Neil Pengelly and discover the inspiration behind his creations
Enjoy a complimentary glass of fizz and some tasty canapés
Enter an exclusive prize draw to win £150 vouchers to be spent in any outlet at the Heart of the Shires shopping village!
THIS WEEKEND – Meet the Artist. Neil Pengelly