Brand new from the beauty salon, Pour La Femme here at Heart of the Shires. Introducing the Million Dollar Facial. We can think of a million reasons this is something special.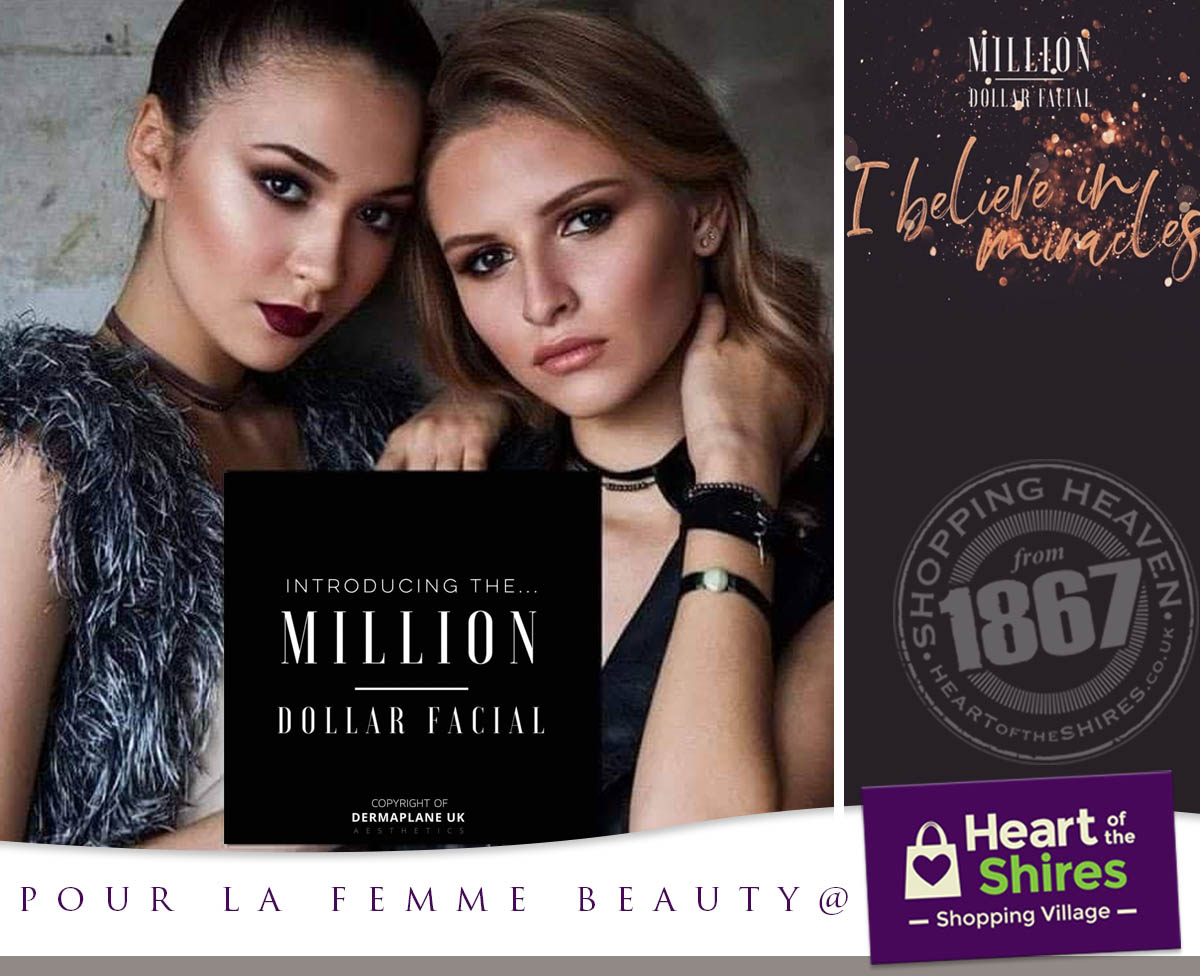 Here's a few common questions Pour La Femme been getting about this new treatment!
Q. WOW I have just seen your work on Client with the Million Dollar Facial or the Miracle Mask will I get the same results?
A. EVERYONE will get the same benefits from both of these products eg tightening, brightening, lifting, hydrating and stimulating of collagen BUT if you dont have any fine lines, wrinkles or sagging of the skin you are not going to see these visable results on your self as you dont have these issues. You have to be realistic in your results.
PREVENTION IS BETTER THAN THE CURE!
Q. How long will these results last?
A. With the Million Dollar Facial the results are not only just instant they continue to work for 28 days. Your results will last 4-6 weeks. A recommend course or 4-6 treatments every 4-6 weeks. After that course I would say around every 3-6 months dependant on each person.
Miracle Mask results are instant and were recommended 72 hours before any big event. The results will last 7-10 days depending on your home care routine. A course of 4-6 is recommended with results that could last up to 6 months.
Q. Regarding the miracle mask is it better results or the same results as a million dollar facial ?
A. The million dollar facial is a deep exfoliation removing 3 to 4 weeks worth of dead skin cells also removal of velluce hair. Then lymphatic drainage followed by microneedling which stimulates collagen and elastin which is an ongoing process results being seen from 2 to 4 weeks lasting as long as 2 years.
The mask is a great treatment for pre event, hydration, lifting, firming with results LASTING 7 to 10 days. A course of treatments could see results lasting 6 to 9 months.
Best results for both would be used combined for that WOW skin we all want ❤
We offer different facials to suit everyone!
PREVENTION IS BETTER THAN THE CURE.
Love the skin you're in ?
If you'd like more info on prices and availability get in touch today!
#milliondollarfacial #heartoftheshires #northamptonshire #dermaplane #daventry #beauty #skincare #wellbeing