It's that time of year where the sun is coming out and colour is returning to gardens across the country – Britain is officially beginning to bloom. We can think of few sights better than cascades of colourful flowers brightening up streets on a sunny day.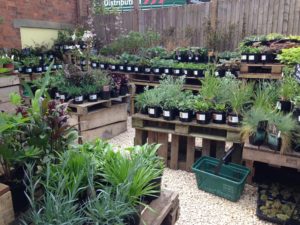 These months mark a period where gardeners are planning how to best design their garden for the coming season. With the Chelsea flower show having just taken place, there are plenty of show stopping and imaginative ideas on display for gardeners around the country to take to their own back garden.
As experts in garden design, David and Lucie Tait from our resident Artisan Gardeners have been keeping a keen eye on the developments at the Chelsea flower show. The pair are constantly innovating and generating vibrant ideas to share with customers of their garden design service. The service provides informed and considered plant choices which transform your outdoor space and wow guests.
If you are looking for ways to brighten up your garden, few plants can do so better than the perennials available at Artisan Gardeners. The gardeners currently have a new increased selection of locally grown spring and summer perennials available. The plants will thrive in the warmer weather and continue to provide colour into autumn.
If you are interested in using Artisan Gardeners garden design service or want to know what plants are currently available, email info.artisangardeners@gmail.com or pop in store today!
Help to transform your garden