Frances Quinn, the winner of The Great British Bake Off 2013 appeared as a judge at our public cake competition last Saturday (2nd June).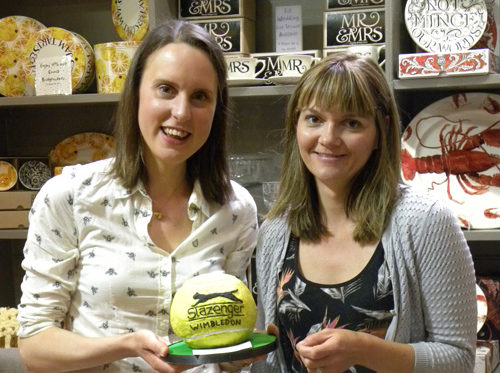 The competition took place at our shopping village near Weedon and was organised as part of Abraxas Cookshop's 20th Anniversary. The free competition was open to the public and 18 cakes made the final cut to be judged by Frances based on their decorative qualities and visual appeal.
Following deliberation, the winner of the over-18's competition was announced as Sonia Eldredge, from Napton-on-the-Hill, who created a coconut and lime tennis ball cake inspired by Wimbledon. George Dicks who made a chocolate and orange volcano cake was named winner of the under-18s. The winners were both given gift vouchers to use at Abraxas Cookshop.
"The standard of cakes on show was really amazing. This made it all the more difficult to pick the winners" explained Frances. "There were some very clever designs on the Wimbledon theme and other cakes that used different themes altogether including Lord of the Rings.
Once the cakes had been judged and the winners announced, Frances was escorted through to the food demonstration area, where she shared tips and performed several cake decorations on a Wimbledon theme.
Gail Cleeland, site manager at Heart of the Shires commented: "We're thrilled with how well the event went and Frances was amazing. She certainly gave me lots of ideas for my next foray into baking."
Heart of the Shires would like to pass on our congratulations to the winners and to all those who entered. We have plenty of other events to come through the summer months, so keep an eye on our website.
To keep up with the latest news and events being held, sign up to our monthly newsletter or follow the Heart of the Shires on Facebook and Twitter.
Frances Quinn puts the icing on the cake at our cake competition