Congratulations to Darlington's who have been awarded the Trip Advisor Award of Excellence.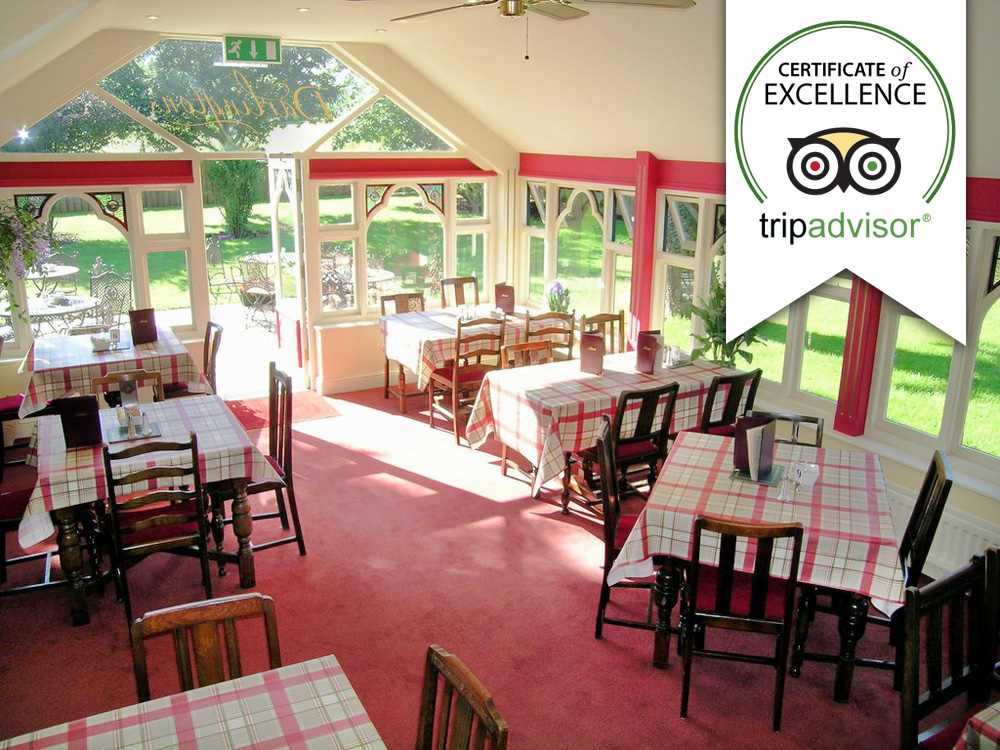 TripAdvisor gives a Certificate of Excellence to accommodations, attractions and restaurants that consistently earn great reviews from travellers, so to celebrate here's a pick of some of the reviews, by independent visitors, over the last few weeks:
Good old fashioned service
I popped in on the off chance with a colleague with a leg in plaster. Ian and his team could not have been more attentive for such a last minute request. The team are so genuinely friendly here. Food is delicious and good coffee too.
MyPropertyCoach, Northampton
Great Lunch
Visited with a friend. The tea room was busy as it was lunchtime. There was to be a 15-20 minute wait a table so they took a mobile number, so we could look around the shops until table was free. We both chose Jacket Potato with Chilli Con Carne filling which was very tasty.
rainbownorthampton, Northampton
Incredible find for lunch off the M1
Long trip from Bournemouth to Hull. Five of us, two kids. Googled 'best stop over lunch' on the M1 and this place popped up. Looked nice, good reviews so we included it in our stop over list. Phoned ahead but the nice lady explained it could be full as the little retail park had a fashion show… but to pop in anyway.
So we did and it was full, but they took our mobile number and said it would be ten to fifteen. No problem as there is a superb cook shop next door so we went shopping. True to their word they called and we took our table. Charming place… when people left the area was cleaned immediately. Great menu designed for quick delivery. And every plate of food was perfect. Delicious. My cheese and pork pie ploughman's was the best I have had in years. Huge and delicious. Kids sandwiches perfect and even the mother in law loved her seafood sarnie (she's a tough crowd!). All perfect with lovely polite staff making sure we had everything.
So… and it was unanimous… we booked Sunday lunch for our long journey home. And we experienced all this loveliness all over again. The front of shop staff making it even more personal. It's harder and harder to find this level of care and attention, they all had a family feel to them.
Half way home my daughter became tearful. She had left her cuddly Pusheen toy at the restaurant. She had just bought it in Beverley. My wife contacted Darlingtons and they looked but no luck, she must have dropped it somewhere. But then.. they texted us…they found it! My wife sent an envelope for them to post it back so all good. And today I had a call at work from my excited (8 year old) daughter. Her Pusheen had been returned, but also with a lovely surprise and a charming note. What a nice gesture. You are great people and good luck to you all and your business. See you next time we bomb up the M1. Boy, do I miss your ploughman's!!!
Pete H, Bournemouth
A very nice place
A delightful little tea room with a nice selection of food. The service was very good and the prices mean it is good value for money. The food was good and I would have to recommend this place for a delightful Ploughman's.
chubchubbanana, Rugby
Lovely family run restaurant
Food here wonderful, extensive menu for a tea room would strongly recommend a try. Danielle our waitress today was charming a credit to her parents.
RobertaH675, Dundee
JUST WONDERFUL
If you want a lovely afternoon out with wonderful food and excellent service make sure you visit Darlingtons Tea Rooms. The young lady who waited on us, named Danielle was a delight, so polite and helpful. We had roast pork, stuffing and warm apple sauce in a warm wholemeal baguette with side salad and crisps,a smoked salmon and prawns wholemeal warm baguette, also came with side salad and crisps. Then we could not resist the carrot cake with fresh cream to finish off.Well and truly full when we left.
A big thank you to all the staff we will be back.
JACQUELINE H, Leicestershire
Nothing is too much trouble
Enjoyed another wonderful lunchtime meal here with friends. As I am sensitive to Mozarella Cheese, the chef made me a special portion of lasagne with just cheddar cheese. This served with scrummy salad with grapes and pink lady apples was gorgeous.
We will be back soon. One of my favourite lunch spots.
Shirley H, Derby
Another super lunch.
Met up again with friends for coffee and lunch. We are never disappointed. Warm welcome, great food, efficient service, a friendly atmosphere and good value for money. What's not to like?
It is really worth booking a table as the tearoom soon fills up at lunchtime, even in the week. One of our group has a particular food allergy and, with forward planning, her lunch was prepared to cater for her. We just ordered in advance.
There is a very good choice of hot and cold lunches. This time we had the fish pie, lasagnes, prawn salad and beef sandwiches. The hot food is homemade and delicious. The salads are so fresh and come with a lovely dressing on the side. Very generous too. The delicious desserts are very tempting.
This is a lovely place for us to meet up and we will be back again next month. Well worth a visit!
skilli15, Swadlincote
Hidden gem !!
Discovered this hidden gem last year and now visit regularly with my best friend. What a find … super little place for some retail therapy… it has a little bit of everything in a quaint setting . Darlington's tea shop is a must …their bacon sandwiches are yummy served in a warm baguette. The lunchtime menu has all your favourites which are all home made (the fish pie is delicious) I haven't tried their cakes (yet) but they look delicious. It has a lovely cozy atmosphere, is very clean and the young ladies waiting tables are very helpful and friendly – simply a fab little place in a wonderful setting.
NJG67, Stamford
Good service
Went for lunch and took my Mother in a wheelchair, helpful and friendly staff gave good service. It is good place to go for lunch as there are lots of interesting shops to look round too and very good parking.
Carole W, Northampton
Excellent as always!
We have never had a bad experience at Darlingtons, always excellent service, staff couldn't be more attentive and the main thing of course is the tasty and generous food!! Definitely go and try the jackets and also the cream tea with warm scones – yum!!
Alison T, Daventry
Darlington's Award of Excellence